Wine Recommendation
---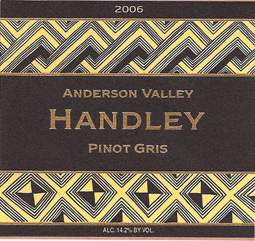 Handley Cellars
2006 Pinot Gris
(Anderson Valley)
This is a real appellation statement from Milla Handley. She sourced the fruit from seven different Pinot Gris vineyards in Anderson Valley – I didn't know there were seven, and I live there – and blended them into one seamless wine. Most of the lots were fermented in neutral oak, ranging from standard barrels to puncheons and one foudre (870 gallons, or almost 15 barrels), and lees were stirred. The point of all this? To make the creamiest, most luscious wine possible. Now, you might not think of Anderson Valley, with its cool climate, dark forests, and morning fog as a place where creamy wines are grown. That's why this is an appellation statement wine.

My initial aromatic impression was of mango, then tangerines and nectarines with some lime zest. The wine has all of these as flavors, plus nut and mineral layers that will make fans of Alsatian Pinot Gris nod in approval. The viscosity of the wine doesn't quit, even in the finish, because the acidity delivers such good palate spread that you're feeling the wine all over your mouth even as the last of it is volatilizing into aftertaste.
Reviewed by Thom Elkjer.